We offer the special quick photo shoot for Little Girls only in this April as pre-opening event !
<Japanese 753 style girl's photo shoot>
753(Shichi-Go-San) is a Japanese traditional ceremony at age of Three, Five and Seven.  Age 3 and 7 are for Girls and 5 is for Boys . This time we do only for little girls age 3yrs-old  753 Kimono style photo shoot.
-It's only for Girls around 3yrs-old.  (height 90−110cm/35-43inch)
4 to 6yrs-old girl can also try if the size fits her.
-2 types of Pink Kimonos for SPRING are available.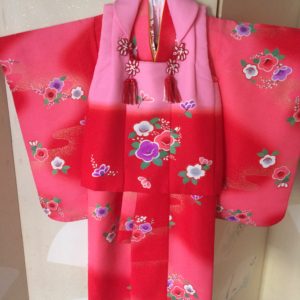 Kimono 1(90-110cm/35-43inch)

Kimono 2 (90-100cm/35-39inch)
Fees: $25
including one Kimono dressing, simple hair accessories and hair set. We try to do from dressing to photo shooting quickly in one hour because tor the little kids. We can give photo datas by taking  DSLR camera, but also you can take photos by your own camera or phone.
This plan is very reasonable price for the first trial to the Kimono world, and you will feel and enjoy Japanese  culture.  Let's try and contact us if some little girls are interested in around you!!
For reservation and questions, kimonoyukimtl@gmail.com